Tirette de Barbentane (pronounce TEE RET)

For Christmas in Provence the tradition is to bake big "Fougasses" (pronounce FOO GAS), a kind of bread with sugar and olive oil shaped like a fern leaf… In Barbentane, since the beginning of 19th century, the fougasse dough leftovers are stretched as sticks and make this culinary specialty of Barbentane.
The recipe of this fougasse dough is a well-kept secret. The name "tirette de Barbentane"is a trade mark since January 28th 2009, the village owns that trade mark and only the village's bakeries are allowed to use it.
Enjoy with some coffee, tea, hot chocolate etc.
Pastis

Provence lifestyle cannot be complete without a glass of Pastis!
This anise flavored liqueur is a tradition for "apéritif" along with olives and other salty treats.
To get your perfect "Pastaga" as we call Pastis in Provence:
– Dilute Pastis with cool water, usually 1 volume of Pastis for 5 volume of water
– Add ice cubes (optional)
– Enjoy this typical refreshing drink!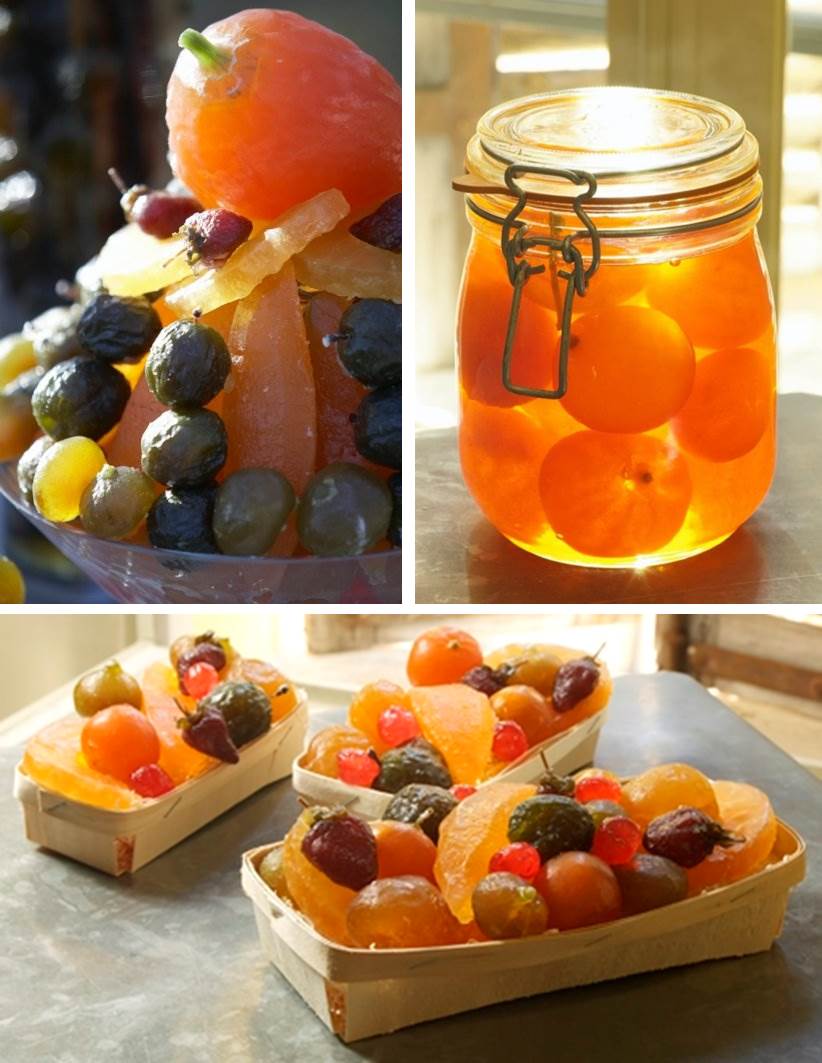 "Fruits Confits" (Candied Fruits)
Candied Fruits is a tradition in Provence going back to the Middle Age!
Best place to buy: Jouvaud Bakery store in Capsud Shopping Center in Avignon (http://www.patisserie-jouvaud.com/)
"Gateau des Rois" (Kings' Cake) for Epiphany

The traditional "Gateau des Rois" in Provence is a round Big Bagel shaped brioche cake with candied fruits, orange blossom water and sprinkled with crystal sugar. The tiny figurine hidden inside represents a Santon of the Christmas crib of Provence.
In Paris and other areas in France the traditional cake for Epiphany is a "Galette", a pie filled with frangipane (almond paste).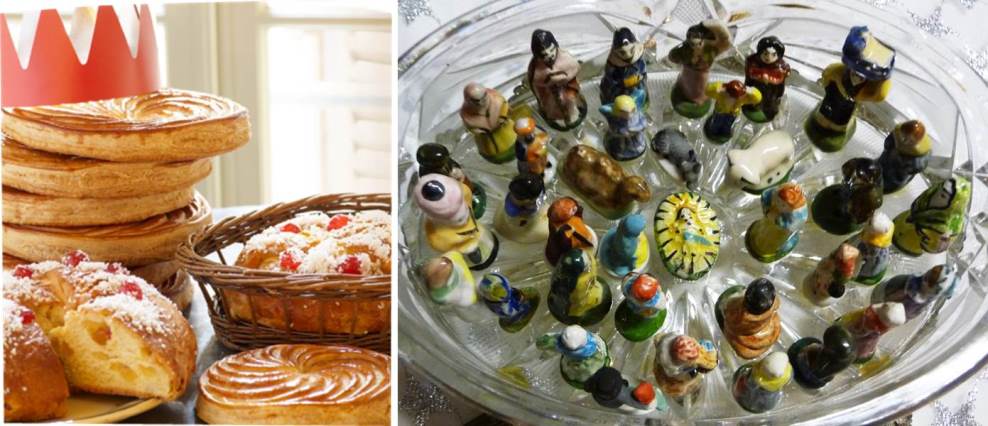 Other sweet treats
Nougat Noir, Papalines d'Avignon, Calissons d'Aix en Provence, Berlingots de Carpentras, Nougat blanc.

"Tellines & Gardiane in Camargue"
Must have traditional menu in Saintes Maries de la Mer village: "Tellines" (sautee with garlic and parsley or in a cream sauce) for appetizer and "Gardiane de Taureau" (bull stew) with rice from Camargue (and french fries)